Jane Norton: NCNST Long Distance Hiker
Jane Norton
Delton, Mich.
Central patch + Wisconsin; Mackinac Bridge; 1,000 Miles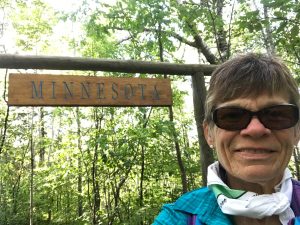 I joined the NCTA Chief Noonday Chapter when I was approached to volunteer for the NCNST. [The NCTA] Conference – now called Celebration – was hosted by the Chief Noonday Chapter in 2012. Thus began my journey. I was hooked on hiking. I hiked all the long hikes at each Celebration, adding miles. Because of Celebrations, I have hiked in every NCNST state except Vermont. 
I had started to hike my Chapter's [NCNST] section each year to better understand where and what everyone was talking about at meetings. I loved this challenge; enjoying the different parts of the Trail: the woods, bike trails, towns, and even roadwalks.
I had a BIG birthday approaching and wanted to celebrate in a very special way: I decided to hike the Lower Peninsula in a year. I started in January and finished in early June, in 27 days of hiking. My husband was my driver; he was very supportive, cheering me on to do more miles per day, my longest day being 28 miles.
Michigan has lot to offer. The wildflowers were amazing. All the structures that volunteers have built and maintained were amazing. Each new section brought more amazement. I met a man named Aaron once and told him about the 14 wooded structures dedicated to Ed Chappell. He said, "that is my grandfather!"
At the New York NCTA Celebration in 2015, I met Stephanie Hogan from Minnesota. We decided to hike all of Wisconsin together. In the summer of 2018 we hiked half and completed it in the fall of 2019. 2021 found Stephanie, Sue, and myself in the eastern Upper Peninsula for six days of hiking. The UP is my next challenge.
Learn more about long distance hiker recognition at explorenct.info/NoCoLo/index.htm.