Grant Seaman: NCNST Long Distance Hiker
Grant Seaman
Canisteo, New York
Central patch + Pennsylvania rocker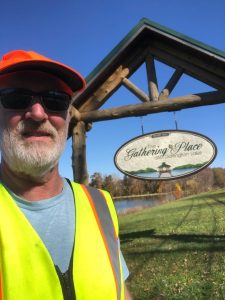 In 2012, I started my challenge to hike the 46 highest peaks in New York State and become a "46er," subsequently completing this challenge in the summer of 2017. I then wondered if there was a hiking challenge I could start closer to home. In December 2017, I started hiking the Finger Lakes Trail (FLT), a portion of which runs five miles from my home.
I completed hiking the main FLT in 2020. At some point, I noted that a portion of the FLT was a part of the North Country National Scenic Trail (NCNST) and then thought it would be good to continue hiking along it to complete as much of the NCNST as I can while my body can still hike! The Pennsylvania part of the NCNST starts at the New York-Pennsylvania border along with the FLT, so I thought I would complete the Pennsylvania section first. I have done that and will now head east and strive to complete the remainder of the New York section of the NCNST.
Learn more about long distance hiker recognition at explorenct.info/NoCoLo/index.htm.