Joan and Ted Ludtke: Hike 100 Finishers
By January 31, 2021, Ted had 100.25 miles and Joan had 131.5.
The following story is about the "Lost Boy's Tree," provided by the Ted and Joan Ludtke of White Cloud, Michigan.
The evening of May 13th called out for a short, last minute, out-and-back hike on the North Country Trail off of Centerline Road. We both wore our Gortex Salomons because of the standing water that had saturated the Trail since fall. The cedar swamps in this area are enchanting, as we were soon to find out. I took several pictures, trying not to slow down. We crossed Coonskin Creek, heading toward the power line at 1.5 miles, where Ted turned around and told me to go further if I wanted. I usually continue for another quarter- to half-mile, turn around, and hustle back to catch him.
I forgot to tell him how far I was going.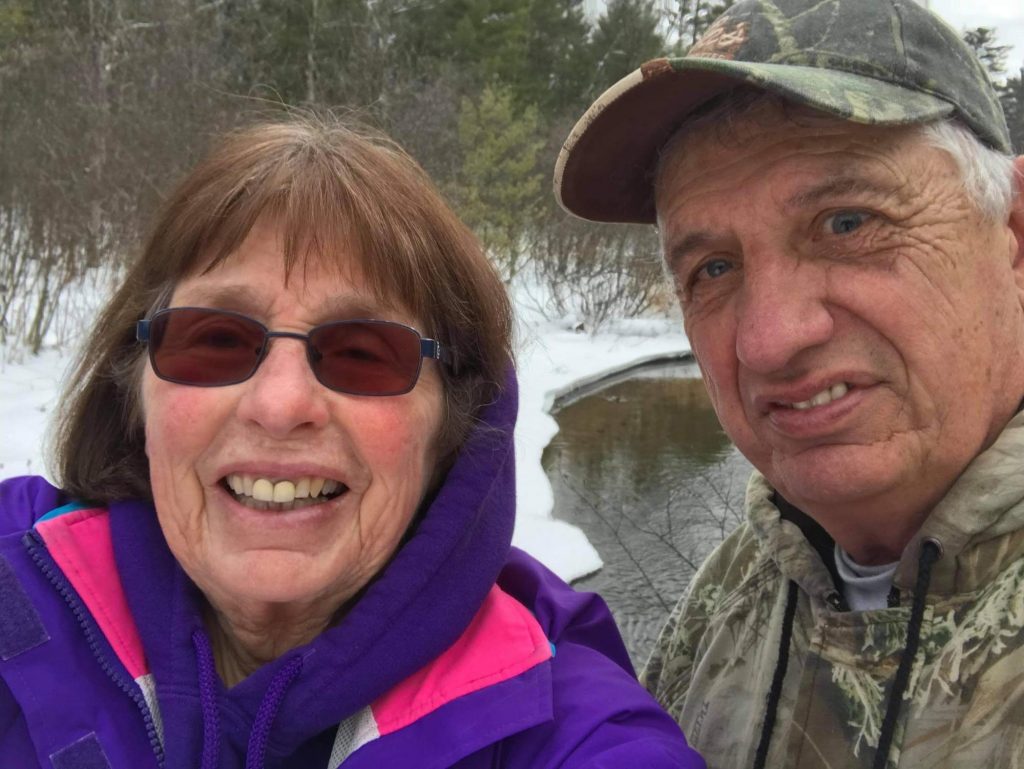 I turned around at two miles, picking up the pace. The sun was setting, but its rays still twinkled across the Trail. As I hurried past the last cedar swamp I heard a branch break. Thinking bear (we have seen them twice in the area), I did not turn around, until I heard another snap. This time I stopped, turned around, took a picture, and kept going with little worry. I arrived back at the trailhead, finding the truck locked, and no husband. There were no new footprints leading to two dirt roads. I ran back a few times on the Trail but didn't want to leave the truck in case he returned, somehow from another direction. An hour had passed, it was getting darker. I left a message with one friend, saying I needed help – Ted with no phone, mine was dying, didn't want to call 911. But finally called a state police officer friend who lived 20 miles away. He would come to help. I told him I was heading back on the Trail to look for Ted but not more than 1.5 miles. I took off "running," yelling "Ted" every minute, and finally found him sheepishly walking back at about 3/4 miles.
How did this happen when hiking out and back? As Ted meandered back after we split up, he thought it would be entertaining, and challenging, to wait for me in the last cedar swamp, off the Trail on a downed tree, hoping to surprise me. As I focused on raising my heart rate while not tripping, Ted had his back turned when I passed him climbing the Lost Boy's Tree. He sat and waited way too long, finally walking in the opposite direction looking for me to no avail, eventually giving up, and trying to figure out his future without a wife.
Ted's explanation? He was having a little trouble positioning himself on the Lost Boy's Tree, got distracted, almost fell, while snapping off the two branches that I heard.