Marty Swank: Volunteer Spotlight
Marty Swank, volunteer with the NCTA Chequamegon Chapter, has now donated 10,000 hours of his time to the North Country National Scenic Trail. The National Park Service (NPS) and North Country Trail Association (NCTA) thank Marty deeply for his efforts, and have presented him with a NPS Volunteer-in-Parks (VIP) award.
When Marty was asked about receiving this award, he responded with an excellent story.
National Park Service 10,000 Award: How I Got There and Am Still Alive!
by Marty Swank
Although I had spent many previous years using the North Country National Scenic Trail (NCT), I had no actual idea that I was using a part of a "National" Trail. It took my brother out in New York to tell me the importance of the trail that I had been using for camping, fishing and hiking. Shortly after this revelation in 1998, I became a member of the Chequamegon Chapter of the North Country Trail Association and started volunteering on Chapter projects.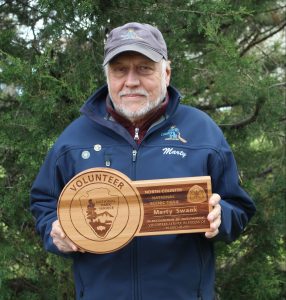 In the fall of 2005, after a fun hike, I was elected by five Chapter members to become the Chapter President. Did I really know what I was getting into?! The hours started to quickly add up and by the 2006 NCTA National Conference, I received my first NPS hourly award (259 hours). I would go on to achieve all the other NPS hourly awards in succeeding years and remained as Chapter President for over a decade. Perhaps the most cherished hourly award was the Presidents Call to Service Award in 2011 that included a signed letter from then President Obama.
Most of the trail maintenance hours for our Chapter's members have been on the Chequamegon Chapter's sections of NCT. The exception would be helping the Heritage Chapter on some projects and having the Heritage Chapter return the favor. We traded off every other year in this effort. After our Chapter created the positions of Eastern and Western Trail Managers, the managers decided we had enough work on our own sections and the practice came to an end. There was talk about beginning this practice once again this year, with the Chapter's newer president, until the coronavirus pandemic made travel to other areas not a good practice and limited the size of work parties.
A major advantage for the Chequamegon Chapter this year has been our Trail Adopters. We have all our sections of NCT adopted by dedicated volunteers. With reduced numbers for work parties, having Trail Adopters has kept our sections of NCT in good shape despite the pandemic.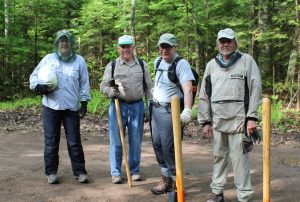 A love of nature, the woods and the animals that inhabit this realm, led me to volunteering on the NCT. Volunteering on the NCT allows for a large variety of types of job tasks, and my adopted section of NCT in the Porcupine Lake Wilderness is perhaps a little more difficult because only hand tools can be used. That means using a hand-operated weed whip to brush, and while not my favorite job task, this makes a VERY BIG difference in the appearance of this wilderness section. A least-liked trail task for me would be blazing. It seems just being around someone else that is blazing results on blue blaze paint being on my clothes and skin. Luckily, blue blazing is not allowed on my section of NCT!
Years of volunteering on the NCT have left me with many memorable experiences! There have been very close encounters of the animal kind, including the giant frog attack while canoe-packing in the Porcupine Lake Wilderness; surviving a major wind event while camping and doing trail maintenance; and the building of the two-log bridge across Porcupine Creek. The longest lasting memory will probably be of all the people that I have met along the way and called friends.
We are a blessed Chapter because we have over seven Chapter scrapbooks that preserve these memories in photos and captions. Chapter Historian Vickie Swank (my wife) has preserved these memorable events over the years so that we can see what was accomplished and enjoyed, well after memories fade and we are no longer a part of the picture. Perhaps a book someday?