Why Tina Supports the NCT
Pain was a way of life for Tina. As a competitive gymnast, Tina's body bore the brunt of her sport.
Despite the pain, Tina continued competing and then coaching for decades. "I coached at a club level until about age 40 but had real back, knee, and ankle problems. I quit [coaching] mostly because it got too hard to pick up kids and help them."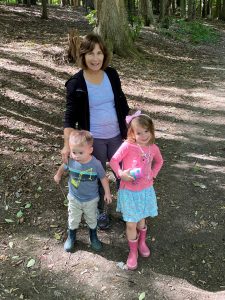 Tina and her husband Mike discovered the North Country Trail in Pennsylvania through some of Mike's coworkers. They began hiking together, but had to take it slow. "When I started hiking I was a bit of a wreck. I had all kinds of braces on both knees, and five miles was a lot for us at that time," Tina shared.
As they continued hiking short distances at a time, Tina realized her body was healing itself. Muscles strengthened, supporting the areas most affected by years of impact from her sport. With each hike she could go a little farther. Now, she can hike 25 miles in a day, a feat she couldn't have imagined at the beginning.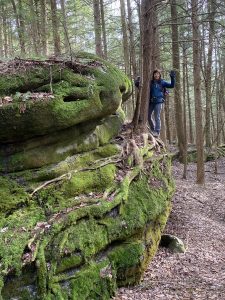 "The hiking really helped heal my body – ankles, knees, back, even wrists. I'm now a healed person. [The Trail] also provides mental healing, a place to destress and relax. For the last five or six years I feel better than I can ever remember. I'd lived with pain since my early teens, so I spent most of my life in some form of pain."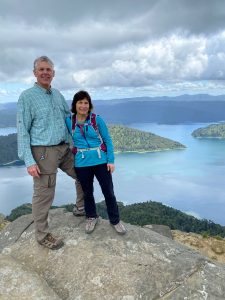 This physical healing impacted her whole life. Everyday tasks like yard work became easier. She's had the ability to travel and adventure with Mike across the globe.
As Tina hiked, she recognized the work it takes to maintain this trail that gave her the gift of healing. Mike and Tina decided to give back and adopted a section of the North Country Trail over a decade ago. They've since become vital members of the NCTA community in building, maintaining, and protecting the NCT.
Tina is forever grateful for the life-changing healing she experienced on the North Country Trail and is honored to give back and provide a place of healing for others.
The support you provide to the North Country Trail community is absolutely incredible. Whether you give monthly or annually, through membership or trail protection, through advocacy efforts or trail building, your actions are so appreciated by many. We will do our best to keep the Trail's tread and status in top-notch condition, and to keep the Association's programs like the Hike 100 Challenge running and improving. Thank you for choosing the North Country Trail and the North Country Trail Association.