Trail Emergencies Workshop Recap
Mid-January, the Adirondack Mountain Club-Onondaga Chapter sponsored a Trail Emergencies Workshop, using parts of the Finger Lakes Trail and North Country Trail in Highland Forest County Park (NY).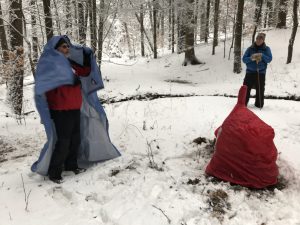 Instructor Jeff Sargent, with help from Kathy Way, presented a two-hour Zoom session and a four-hour outdoor skills practice and demonstration. Sargent also trains Nordic ski patrol, and search and rescue teams, and is the ADK-Onondaga Chapter Education Chair. He has also completed the Appalachian Trail and Pacific Crest Trail, and plans to take on the Continental Divide Trail this year.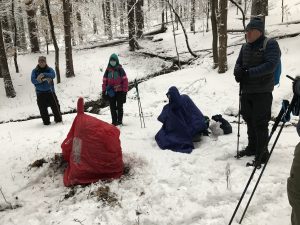 Since this particular workshop, Sargent has educated – or plans to educate – trail users on heat loss and outdoor clothing selection, an introduction to backpacking, and map and compass basics. Visit adk-on.org for additional information.
Content and photos provided by Mary Coffin