Mandy Huskey (Gunflint Lodge), Joe DeMuzio, and REI Foundation: Volunteer Spotlight
2020 Trail Blazer Awards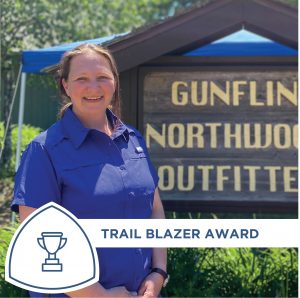 Mandy Huskey, Gunflint Lodge. The Gunflint Lodge is the quintessential, historic Northwoods resort facility on Gunflint Lake that goes back to 1927. They offer the public a variety of lodging opportunities, a fabulous restaurant, and a full service Boundary Waters outfitter operation in far northern Minnesota. Owners John and Mindy Frederickson's hospitality allows our volunteer work crews to shower after work sessions, stay overnight for free before and after trips into the interior, and even to borrow canoes and other equipment when the U.S. Forest Service doesn't have enough to go around. Mandy Huskey runs the operation so is currently most responsible for their hospitality to Kekekabic and NCT volunteer work crews.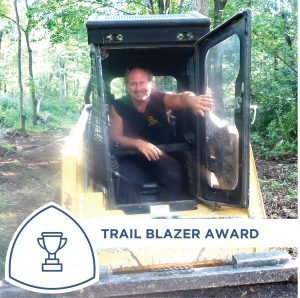 Joe DeMuzio. The Wampum Chapter honors Joe for his contributions as an excavating contractor, because he has brought his machinery and time to bear on worthy projects like the Chapter's accessible trail for the disabled and bank restoration work near their Watts Mill site.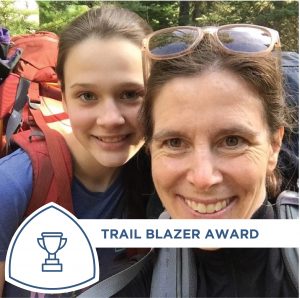 REI Foundation. While REI stores have contributed to our local projects for years, this year many of them were temporarily closed, so the national Foundation stepped in to contribute $25,000 to NCTA, not tied to any specific project, to be spent as we needed. We remain grateful for their ongoing support.
Who are you proud of in your local Chapter, state or region? Consider nominating them for an NCTA Award! The nomination form for 2021 awards closed on May 1, 2021, but awards are annual! Learn more at northcountrytrail.org/volunteer/volunteer-awards.