2021 Thomas L. Gilbert Lifetime Achievement Award: Volunteer Spotlight
2021 Thomas L. Gilbert Lifetime Achievement Award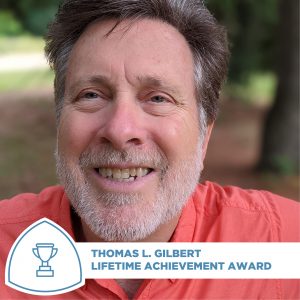 Mike Stafford. Mike joined the Heritage Chapter in 1999 and has been an active member since, despite living in the Milwaukee area, over 300 miles from the Heritage Chapter's Trail section. For 22 years he has traveled this distance, while maintaining his interest, enthusiasm, and energy to fulfill his volunteer responsibilities to the Chapter. He served as Treasurer from 1999-2011, and President from 2008-2020. A true jack-of-all-trades, Mike has organized hikes, coordinated media and outreach efforts, built and maintained trail, recorded GPS data, provided financial guidance, and so much more.
Iron County is one of the least populated in Wisconsin, and a very difficult place to find trail volunteers. But because of Mike, Chapter membership has sustained and has grown locally. He also partnered with Northland College to establish an intern program for students to volunteer. Thanks to his planning and financial prowess, many miles of new Trail have been built and permanent easements have been acquired. He has been a Chapter pillar and mainstay.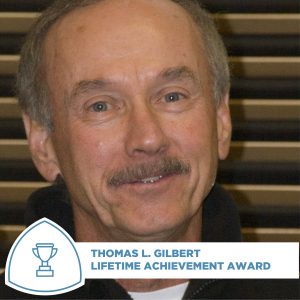 Dick Naperala. Dick Naperala joined the Grand Traverse Hiking Club (GTHC) Chapter in 1994 and immediately became very active in Chapter activities. He has served as Chapter President then Trail Coordinator. During his time in the latter position, he spearheaded numerous Trail relocations that eliminated roadwalks, separated the NCT from the Michigan Shoreto-Shore State Horse Trail, and moved the Trail away from pipelines.
Of the Chapter's 107 miles of NCT, about 70 are on new routes different from those we originally maintained in 1994. Dick coordinated large-scale outreach efforts around the Traverse City area, approached land managers, scouted new routes, created many crucial partnerships, and directed Trail construction. He also identified and collaborated with community leaders in Fife Lake and Kalkaska, working the towns' (current) NCTA Trail Town designations. Dick Naperala has been the heart and soul of the GTHC Chapter, and it would be difficult to imagine what this section of NCT would be like without his efforts.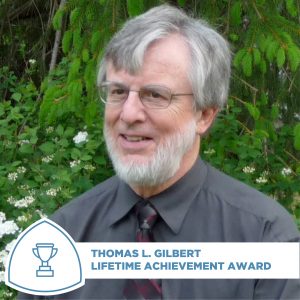 Mick Hawkins. Mick was recruited to the Chief Noonday Chapter by his brother Larry in 2002 because "he needed to get out more and meet new people." Though he lived nearly an hour away from the Chapter area, he participated in many activities. He became Chapter Webmaster in 2005, creating the Chapter's online presence and developing email communications for members and friends of the Chapter. These major efforts won him an NCTA Communicator of the Year Award in 2007. He has also served as Chapter Secretary, Trail Adopter program lead, and unofficial liaison to the Michigan DNR, and he has received a number of NPS awards for his thousands of service hours.
Mick put in endless miles on the Trail to collect GPS data – much of the early NCT mapping work in Barry County was done by him. His high-quality maps were often featured (and maintained by him) at trailhead kiosks in three counties. He has been a prolific photographer for both the Chapter and NCTA at a national level, and continues to put much effort into training, coordinating, and celebrating other Trail Adopters.
Who from your local Chapter, state or region do you want to celebrate? Nominate them for an NCTA Award! Awards are annual, and nominations for 2022 NCTA Awards are open January 15 through May 1, 2022:  northcountrytrail.org/volunteer-awards