2022 Friend of the Trail Awards
Friend of the Trail Award recipients are employees of units of governance or organizations whose leadership, accommodations, and active collaboration have substantially benefited the North Country National Scenic Trail or the North Country Trail Association, not working solely in the capacity of an NCTA member.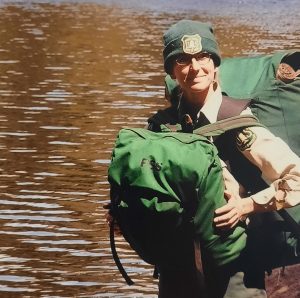 Tammy Cefalu, USFS, Superior National Forest. Tammy has provided excellent partner and project support for the NCTA Kekekabic Trail Chapter (Minn.), the Border Route Trail Association (BRTA), and the Superior Hiking Trail Association (SHTA) for over three years. She meets crews on weekends to provide orientations and safety briefings, provides volunteer training, coordinates tool sharing and canoes for crews, and shuttles project materials. Despite the non-NCNST activity in the Superior National Forest and Boundary Waters, Tammy always finds time to ensure NCTA crews have supplies and permits. A recent U.S. Forest Service trail partner survey determined having an agency staff person that volunteers can rely upon is essential to making a trail volunteer program work. Tammy has gone above and beyond in easing the task of coordinating volunteer trail clearing trips.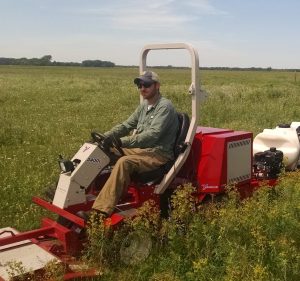 Aaron Gaither, USFS, Sheyenne Ranger District. In consultation and cooperation with the U.S. Forest Service (USFS), the NCTA Dakota Prairie Chapter has maintained 31 miles of the NCNST in the Sheyenne National Grassland for over three years. Aaron has been the primary USFS contact, and is an excellent partner and project support resource. He regularly provides training for volunteers, and coordinates the use and maintenance of tools and equipment. Aaron arranged to have a storage shed built at a campground near the Trail, for easy storage and access of volunteer maintenance equipment. He recently coordinated the purchase of a trail counter system to measure the number of trail users in the Sheyenne National Grassland. He is providing funding and working closely with the Chapter to create a system of water caches across the Grasslands that will be a significant recreational amenity, especially for long-distance hikers. He is an exceptional communicator, planner, and project coordinator. Aaron truly understands and supports collaborative management of this NCNST segment, and is committed to seeking federal funding for improvements to the Trail. He values our volunteers, strives to enable their work, and backfills with USFS staff resources.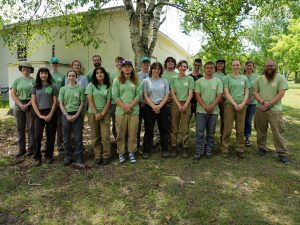 Jennifer Flynn + SEEDS EcoCorps. SEEDS EcoCorps crews have often been utilized by the U.S. Forest Service in Michigan's Manistee National Forest for various projects, including work on the NCNST. Since 2019, thanks to the outreach of Program Director Jennifer Flynn, their work range along the Trail has expanded. They have now assisted five NCTA Chapters in both peninsulas of Michigan. They have worked on new trail and reroutes, boardwalk and bridge construction, fencing projects, and more. Jennifer specifically spearheads these efforts to get young adults on the NCNST to provide them with hands-on work experience in a variety of settings. The physical work they provide lessens the burden on volunteers, and NCTA volunteers are always impressed with the crews' work ethic and quality of work. Volunteers are often pleasantly surprised to hear how much each crew member learned and enjoyed themselves. Jennifer submits grants so there are zero expenses for the NCTA, and communicates directly with Chapter leaders on project logistics. Her leadership and collaboration with the NCTA have made a significant impact on the improvement of the Trail.
Nominations for 2023 awards are open until May 1. See all awards categories, past winners, and nomination information at northcountrytrail.org/volunteer-awards.