2022 Thomas L. Gilbert Lifetime Achievement Awards
Recipients of the NCTA Thomas L. Gilbert Lifetime Achievement Award are recognized for 15+ years of true dedication, exceptional service, and outstanding contributions toward the dream of the North Country National Scenic Trail, or the success and growth of the NCTA. These are the 2022 recipients.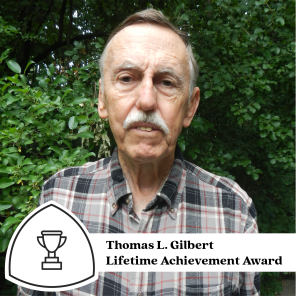 John Elliott. John has been volunteering with the Minnesota Roving Crew and the Border Route Trail Association (BRTA) since the 1970s. He worked alongside Ed Solstad to plan and build the "first long-distance, wilderness backpacking and hiking trail in Minnesota, planned and constructed by volunteers." He helped form the BRTA as a separate entity in 2004, allowing the group a greater focus on the trail itself, and more grant opportunities. Due in part to his incredible wealth of knowledge, John has been the Equipment Coordinator for many years. He maintains, repairs, and stores the various chainsaws and brushcutters used by the members. His meticulous attention to detail has kept much of the equipment running in tip-top shape for a very long time. He also dons a hard hat regularly to put those tools to work – in every season, no less. Even after days of grueling physical work, he is consistently in the front of the group, maintaining a cheerful attitude. John has coordinated several volunteer trips, distributed trail guides and merchandise to retailers, and established relationships with the U.S. Forest Service and business owners on the Gunflint Trail. He was once even interviewed by Outside Online in 2019. While quite modest, he is an enthusiastic advocate for this segment of the NCNST.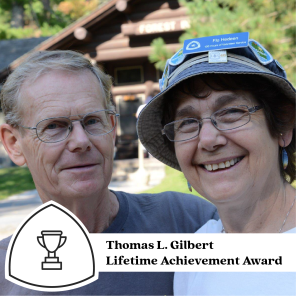 Carter and Florence Hedeen. The Hedeens are among those responsible for founding the Itasca Moraine Chapter (Minn.) and at one time or another, they have held every Chapter Leadership position. On their living room floor, maps were studied and proposed trail route was penciled in. Since 2001, they have built Trail westward through Paul Bunyan State Forest. Thanks to their leadership and "full steam ahead" attitude, the Trail was built across Hubbard County in November 2009. They have led hikes, helped plan at least three Celebration events – including this year's – and commissioned Charlie Maguire to write the North Country Trail Ballad. Florence, as Chapter historian, has documented essentially everything, filling numerous photo albums. Carter and Florence have worked tirelessly building, maintaining, improving, and promoting the North Country National Scenic Trail for well over 20 years.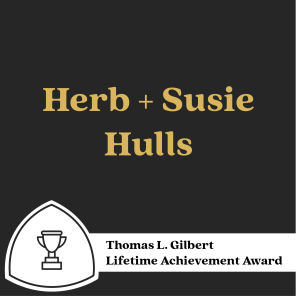 Herb and Susie Hulls. The Hulls have spent 30 years being part of solutions. Herb is generous with his time, knowledge, financial support, and opinion. He was President of the Buckeye Trail Association (BTA) Board of Trustees for 11 years, and has been a Crew Organizer, Trail Crew Leader, and Trail Crew volunteer for decades. He donated an easement for a backpacking shelter on his land. He organized volunteer trips to the Colorado Trail several times to bring new trail building skills and perspectives back to Ohio. Any welded pipe bridge on the Buckeye Trail (BT) was procured, delivered, and welded on-site by Herb and friends. He was critical in restoring the 1881 barn at the BTA Beall Farmstead, and a key leader and laborer in restoring the BTA office. Herb self-funded and handbuilt the Buckeye Trail Chuckwagon: A custom, mobile trailer with full kitchen functionality, solar power, and a water hauler. The Hulls funded and cooked meals for nearly every Trail Crew event for over a decade. When Herb saw conflict amongst trail user groups, he formed the Ohio Trails Partnership: A trail etiquette group that has shared volunteer opportunities over 20 years and has blossomed into a statewide trails advocacy collaboration. He was also instrumental in the Ohio Department of Natural Resources becoming a champion for the BT, specifically the acquisition of 40,000 acres now known as the Appalachian Hills Wildlife Area.
See all awards categories, past winners, and nomination information at northcountrytrail.org/volunteer-awards.