Chippewa National Forest: Trail Section Highlight
The nearly 667,000-acre Chippewa National Forest in north central Minnesota currently hosts 61 miles of the North Country National Scenic Trail.
It also has a unique history. Following political advocacy by the Minnesota Federation of Women's Clubs, concerned about the wholesale loss of forests in northern Minnesota, the Minnesota Forest Reserve was created in 1902 via Congress' passage of the Morris Act. This legislation dictated disposition of unallotted Obibwe (Chippewa) Reservation lands in Minnesota. The Minnesota Forest Reserve was re-designated as the Minnesota National Forest in 1908 and finally renamed in honor of the Chippewa in 1928. Over the years, additional lands were purchased and the Forest's boundary adjusted to reach its current size.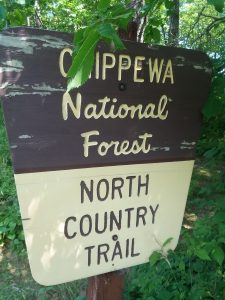 Like its neighboring Superior National Forest, the Chippewa has abundant water resources, including 400,000 acres of wetlands, over 1,300 lakes, and 923 miles of rivers and streams. A bit of trivia: The Chippewa National Forest contains about 13% of all surface water within the entire National Forest system. In fact, no other National Forest in the entire U.S. has more lakes and wetlands. You cannot hike more than a short distance on the North Country Trail within the Chippewa National Forest before passing by a body of water. Because of that abundance, "the Chip" is also home to one of the highest density populations of bald eagles in the Lower 48.

Highlights along the existing NCT in "the Chip" include:

The scenic Shingobee Recreation Area and Shingobee River Valley. Shingobee means "cedar bows" in Ojibwe language. The Recreation Area includes a hiking and cross-country ski trail system, and a hill that was Minnesota's first downhill ski area.
The Woodtick Fields are vast areas of homesteaders' sheep grazing pastures that have been kept open by the Forest Service as wildlife openings.
The Boy River is a historic log driving river that is now used for wild ricing and is frequented by migratory waterfowl. The NCT crosses the river on the State Highway 200 bridge.
The Milton Lake esker is a short segment of the NCT that sits atop a steep-sided glacial esker covered by large pines.
Highlights off the NCT include the "Lost 40," an old-growth stand of pines near Northome; Camp Rabideau, a restored CCC camp near Blackduck; and the historic Supervisor's Office in Cass Lake, MN.

With Congress' passage of the Route Adjustment Act legislation in 2019, many more new miles of the NCT will be constructed in the Chippewa National Forest north of Grand Rapids, MN. Learn more about the history of "the Chip" via the Minnesota DNR or the Forest's website.