Judy Conrad: NCNST Long Distance Hiker
Judy Conrad
Pellston, Mich.
Michigan

Judy has previously received the Central Patch, 1,000-Mile and Mackinac Bridge rockers.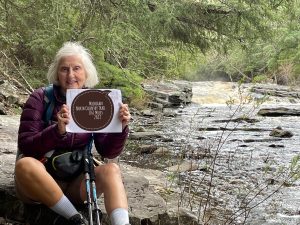 On May 13, 2016, I joined the Softies who were hiking across the UP of Michigan. I joined them in Grand Marais as they were hiking east. I thought it would be really cool if I could hike the whole Upper Peninsula of Michigan. The following year I went on a hike with my son Chris. I told him about my dream and then a thought dawned on us. He lives in Ohio, I live in Michigan near the Mackinac Bridge. Let's do the lower peninsula of Michigan together! The quest was on!
I kept hiking with the Softies in the UP, as well as other treks with friends Shari and Carmen. Chris and I (and sometimes Shari and Carmen) were hiking from the Mackinac Bridge to the Ohio border.
I achieved my 1,000-Mile Long Distance Hiker award and arrived at the Ohio border on April 18, 2021. I only had 161 miles to finish the UP. I continued hiking with the Softies, and Chris and I hiked the Porkies and the Trap Hills later in 2021. I was sure I could finish the last 60 miles to "Get 'Er Done in '21."
But my dad became ill and needed my help, so those 60 miles were delayed into 2022. Five days in May of 2022 were chosen. Three of those five days were in the mid 90s! But "I made it through in '22!" My long-time goal of the NCNST of Michigan was complete. Praise the Lord! At 73 years old I feel so blessed to be able to have done this!
Learn more about long distance hiker recognition at explorenct.info/NoCoLo/index.htm.