Nancy Shepherd: NCNST Long Distance Hiker
Nancy Shepherd
Wooster, Ohio
Central patch + Ohio and Mackinac Bridge rockers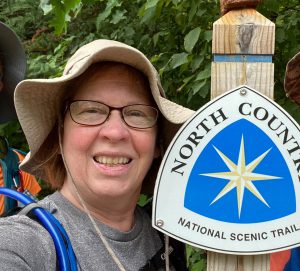 I have dreamed of hiking the North Country [National Scenic] Trail for many years, but obligations always seemed to get in the way. Then I found the Buckeye Trail (BT) circuit hike group. I joined up, and by hiking a bit each month, I finished the BT in 2019. Since that adventure put a big section of the NCNST under my feet, the next step was obvious. I finished the NCNST "wings" in Ohio and set my sights on more.
Having gained good friends in the circuit hike group, I was able to achieve the Mackinac Bridge Walk in 2022: another long-held goal. Shuttling with my friends allowed me to get a start on the Michigan NCNST.
This hiking adventure gets more difficult as I have to travel ever farther from home, but if I complete 100 miles each year, I should be able to finish the North Country Trail by age 100! (Hmm, this may require some more planning.)
I love hiking for the pure love of motion, for the camaraderie of friends, and for experiencing the often hidden treasures of our country. I look forward to the challenge of completing the North Country Trail.

Learn more about long distance hiker recognition at explorenct.info/NoCoLo/index.htm.