September Trail Events and Activities
September is one of the most ideal months to enjoy the North Country Trail, and the Trail Community is responding with many event options for you.
The North Country National Scenic Trail spans 4,800 miles across eight states: North Dakota, Minnesota, Wisconsin, Michigan, Ohio, Pennsylvania, New York, and Vermont. There are 29 volunteer Chapters of the North Country Trail Association, as well as many Affiliate and Partner organizations, that are always eager to share the Trail with both newcomers and longtime friends, and to better the Trail and the Trail Community. You can get involved by participating in group hikes, workdays, or by attending meetings or other events.
Below are some resources for events in each NCT state. Some states have named September as "Trails Month" or "Trails Week." Remember September 25 is both National Public Lands Day and North Country National Scenic Trail Day! There are many NCTA events specifically on that day:
Consider joining the NCTA or renewing your membership in the month of September to receive a limited edition thank you gift! Or join or renew on on September 25 specifically to help us meet a membership challenge!
North Dakota
North Dakota Parks and Recreation offers both an Adventure Challenge and a 12 Months-12 Hikes Challenge, and neither are September specific. Check them out, and look into what the North Dakota NCTA Chapters are up to.
Minnesota
The Minnesota Department of Natural Resources (DNR) offers a great State Parks and Trails Events Calendar that's chock full of events throughout the state – many of which are near the NCT. Find the Minnesota NCTA Chapters here.
Wisconsin
The Wisconsin DNR provides an excellent, interactive events calendar with parks events, education events, volunteer events, outdoor recreation events, and more. Check out the Wisconsin NCTA Chapters, too.
Michigan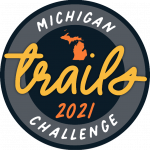 September 19-26 is Michigan Trails Week, and Michiganders are coming together to collectively travel 100,000 miles on nonmotorized and motorized trails across the state.⁠ Learn more and consider donating to help purchase materials for the Naomikong trail improvement project on the NCT in the upper peninsula.⁠ Interested in working with your local Chapter on projects like this? Learn what's going on with the Michigan NCTA Chapters.
Ohio
Five Rivers MetroParks offers a MetroParks Trails Challenge, this year between February 1 and October 31. Did you know the Buckeye Trail is also NCNST? Learn about how unique the Trail is across Ohio, as well as the Ohio NCTA Chapter and Affiliates.
Pennsylvania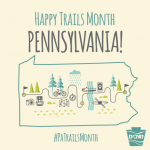 September is Trails Month in Pennsylvania. The entire state hosts more than 12,000 miles of trails to explore, including nearly 300 mile of NCNST. Check out the events calendar from the Pennsylvania Department of Conservation and Natural Resources (DCNR) and find Pennsylvania NCTA Chapters.
New York
September is a gorgeous time to utilize trails throughout New York State. New York State Parks, Recreation and Historic Preservation offers a long list of activities. The New York NCTA Chapter and Affiliates can also offer great NCT options.
Vermont
Vermont is the newest NCNST state but it's certainly not new territory for the trails community. NCTA partners like the Green Mountain Club and the Middlebury Area Land Trust host events. Study the new NCT in Vermont, too.