2020 Trail Builder and Trail Maintainer Awards: Volunteer Spotlight
2020 Trail Builder and Trail Maintainer Awards
Trail Builder
Richard Ostheimer. Rick has been involved in all of Wampum Chapter's miles of new trail construction for years now, offering his experience in both designing and creating new off-road trails. His expertise is especially valued for the new 80 miles in Ohio that the Chapter has adopted. Shelters, bridges, and actual trail have been his jobs, and Rick is noted for sharing what he knows with youth groups especially.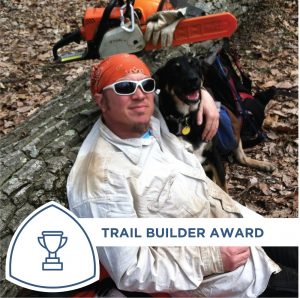 Byron Guy. Byron is responsible for a 51-mile section (!!) of the NCT/Buckeye Trail in the Hocking Hills State Park and works over 500 hours of trail maintenance annually. He also participates in group projects to build facilities and more new Trail, and somehow finds the time and energy to organize several hiking events.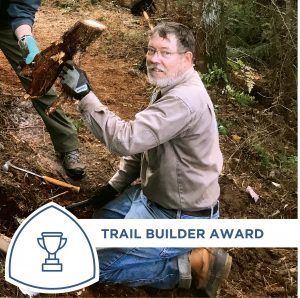 Bill Courtois. Bill was a Trail Adopter for years, then gave up his section to become the Adoption Coordinator for the Hiawatha Shore-to-Shore Chapter's entire section, consisting of 18 segments. He is an aggressive coordinator, communicating with all of his maintainers frequently, visiting their sections, sharing material kits with them. He bought a small RV so he could join the Chapter's Roving Crew on more projects, naming it the Lyme Lounge after his jar of ticks inside.
Trail Maintainer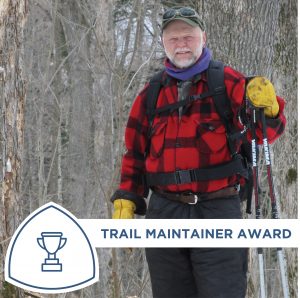 Cal Kangas. Cal was the President of the Ni-Miikanaake Chapter, a true leader, positive influence and friend to all who knew him. He spent his time doing what he loved most: maintaining the Trail, planning new sections and working to bring different trail user communities and age groups together. Cal passed away in 2019 and is deeply missed.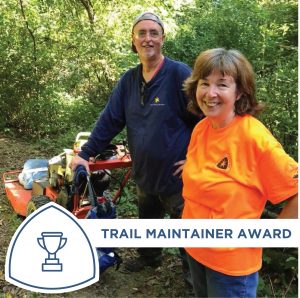 Doug Lawrence and Kathy Rea. The Wampum Chapter is the beneficiary of this couple's dedication to their section of Trail, a highly trafficked portion where any report of a tree down or some other mess brings them out within a day, typically. No surprise, they also support many other Chapter activities, too, and join in with group trail projects.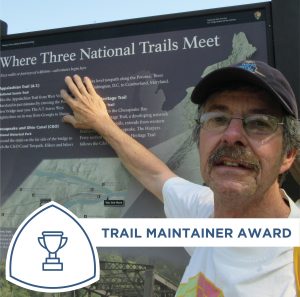 Frank Lynn. Frank has been a maintainer for the Western Michigan Chapter for his own section since 2009, plus is one of the Chapter's chain sawyers, so responds quickly to such emergencies. They figure he has walked many miles carrying his chainsaw, plus he joins in on Chapter work projects. He is one of their regular mowers too, for the twice-annual tours of their grassy portions.
Who are you proud of in your local Chapter, state or region? Consider nominating them for an NCTA Award! The nomination form for 2021 awards closed on May 1, 2021, but awards are annual! Learn more at northcountrytrail.org/volunteer-awards.