Lisa Snook: NCNST Long Distance Hiker
Lisa Snook
Ohio
2,000-Mile rocker
The following essay, The Desire to Walk, was published in the 2023 Summer issue of the North Star magazine.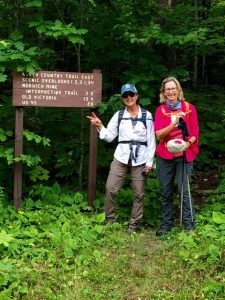 "Above all, do not lose your desire to walk. Everyday, I walk myself into a state of well-being and walk away from every illness. I have walked myself into my best thoughts, and I know of no thought so burdensome that one cannot walk away from it. But by sitting still, and the more one sits still, the closer one comes to feeling ill. Thus if one just keeps on walking, everything will be alright." (Søren Kierkegaard)
My hiking partner Barb Whittington and I have now become 2,000-mile, long distance hikers. We have completed the entire state of Michigan and now, nearly all of Minnesota, save for the Border Route and Kekekabic Trail sections. God willing and the creek don't rise, we will have completed those by the end of the 2023 hiking season. We have had experiences too numerous for one article, so today I will focus on a beautiful section in Minnesota that brought us great joy and helped heal my spirit.
We planned a fall hike, but at the end of August 2022, my mother became ill and within three weeks' time, she passed away. Although she lived a very long, healthy life and had only a three-week period of discomfort, it was still a very emotional time for our family. After the services, Barb and I left for our central Minnesota hike.
It began a bit northeast of the Detroit Lakes area with a warm and dewy 18 miles near Hubbel Pond [Wildlife Management Area]. We continued the next day through the Tamarac National Wildlife Refuge and Chippewa National Forest. Thankfully, I had purchased the Guide to Hiking the North Country Trail in Minnesota before our trip. Not only did we get to experience firsthand the beautiful prairie and forests with a variety of flora and fauna, but we had a resource to read before and after the hikes each day.
After exiting the Refuge, we found a great place to camp 20 miles from the nearest town. We heard wolves so close that night that their howling sounded as loud as tornado sirens. There was an impassable section of the Trail closed to hikers where there had been a blowdown, so we took a little detour and drove to Itasca State Park. What an enormous, one-of-a-kind place! It is somewhere I plan to return.
Back on the Trail, as has been our experience throughout our 2,000+ miles, we encountered very few people – but those we did meet epitomized Minnesota Nice. We came upon some volunteers whose work on the Trail was much appreciated. They were patient with our questions and confirmed that we had been walking through a lot of chokecherries. At the end of the day we drove into Lake George where we got to meet the proprietors of one of those wonderful all-in-one locations where you can buy all the necessities. If you are in the area, this town is worth a stop.
After a few days on the Trail, I was ready for a campground with a shower. Barb had a low tire on her car, so we found a great spot in Akeley where we could get air and camp at the city park. We had a fire, a beautiful sunset beside the lake, and a hot shower before getting back on the Trail. I admit I wasn't the best trail buddy thus far into the trip. But with the beauty of the Northwoods, the hot shower, the solitude, and a friend to listen and talk me through my recent loss, the Trail once again came to my rescue.
We were hiking during grouse hunting season but only heard the occasional distant gunshot. However, we did come across a grisly sight of a bird that had been, what seemed to us, ripped apart and hung up in a sapling. We had just seen a fisher* before that and wondered if that was the culprit. In a quarter-mile, we saw another mangled up bird. Barb snapped a photo. At the end of the day we went into Remer and noticed many Bigfoot references. Barb joked that maybe it was Bigfoot eating the birds. While having a sandwich in a local establishment, Barb showed her photo to some locals, but no one had seen that behavior before. We eventually heard that some hunters prefer to take the best of the grouse and leave the rest for the animals.
*A fisher is a small, carnivorous mammal native to North America. It is of the weasel family and comparable in size to a domestic cat.
This hike challenged us, taught us, and renewed us. We are always tired at the end, but we relish the experiences that the Trail has brought us. I encourage others to enjoy the North Country Trail, and to walk yourselves into a state of well-being.
Learn more about long distance hiker recognition at explorenct.info/NoCoLo/index.htm.