2021 Trail Builder and Trail Maintainer Awards: Volunteer Spotlight
2021 Trail Builder Award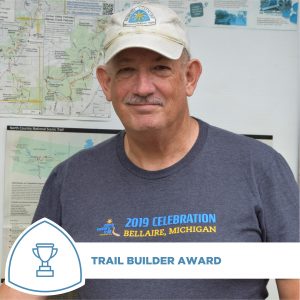 Duane Lawton. Duane has been a catalyst for much of the Jordan Valley 45° Chapter's trail building efforts for well over a decade. From route identification and planning, to scouting, to pursuing landowner agreements, to trail construction, he has been integral. Duane is an inspiration with his dedication, willingness, enthusiasm, engineering know-how, and construction experience. All of that has fostered the creation of many miles of amazing Trail. He is capable, thoughtful, and methodical. He is the Chapter's "Trail Builder Extraordinaire!"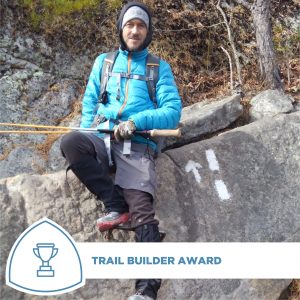 Jamie Guy. Jamie was instrumental in planning the Old Man's Cave section of the Buckeye Trail (BT)/NCNST to be moved completely off-road. As the property steward for the Pretty Run Preserve in Vinton County, Ohio, Jamie single handedly built the first ever moldering privy on the BT/NCNST and constructed, by himself, a new backpacking shelter. Most recently, he helped develop and lay out the new BT/NCNST route through two state nature preserves and state forest in Hocking Hills, getting more Trail off-road. His impact on the Trail in this region will be felt and seen for the next 60 years of the Buckeye Trail's existence.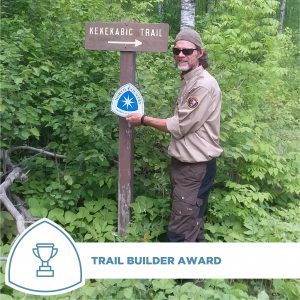 Derrick Passe. Derrick has been an active member and leader of the Kekekabic Trail Club – now the NCTA Kekekabic Trail Chapter – for over two decades, serving in multiple leadership roles. He led the club's Trail Committee for many years, scouting and planning, organizing and leading volunteer trail crews. He has developed a loyal cadre of return volunteers who work with him almost every year on the Trail. Several years ago, he worked with other volunteers and the U.S. Forest Service to plan and flag an extension of the Kekekabic Trail from its western trailhead to Ely, Minn. This will be an important segment of the NCNST. Derrick is a much admired and highly regarded member. He has been a vital person in the maintenance of this Wilderness segment of the NCNST.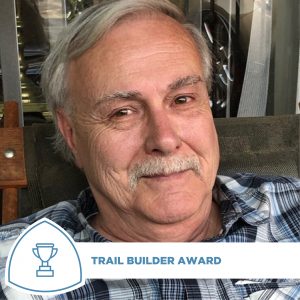 Jack Miller. Jack has been an active member of the NCTA Central New York Chapter for more than 22 years. He has served faithfully, with distinction, and without reservation in several capacities: Chapter President, Treasurer, and voting board member/director. He is currently a director-at-large. He participated in nearly all work hikes that created the Chapter's section of NCNST in the late 1990s and early 2000s, and continues to do so with skill and motivating attitude. He serves on multiple Chapter committees, and played a critical role in Canastota, N.Y. becoming an NCTA Trail Town. He has been an active steward since the Chapter's chartering, monitoring and maintaining numerous sections with diligence and willingness. Jack shares his love for the environment and the outdoors with spirit and zeal that is an inspiration to all who join him.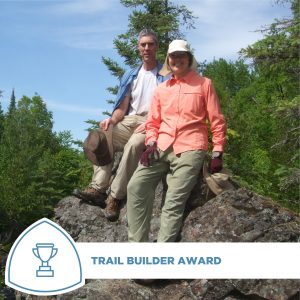 Bob and Jane Leedle. In 2007, Jane signed Bob up for a Wisconsin Roving Trail Crew event, at which the crew built a large, two-log bridge in the Rainbow Lakes Wilderness and used primitive trail skills. Soon after, Jane joined too. Most often, they choose to participate when the construction of a large, complex structure is on the schedule: They've helped build six large, A-truss bridges and several stretches of puncheon, hundreds of feet in length. Together, they've accumulated over 2,500 volunteer hours. Bob is a crosscut saw aficionado and has advertised trailwide to perform sharpening services. One recent winter, the Leedles stored a crew trailer at their home and spent many hours repairing and upgrading it at their own expense. They have also made a number of generous donations to the NCTA, and have supplied the Roving Trail Crew with many tools, enabling them to function more efficiently.
2021 Trail Maintainer Award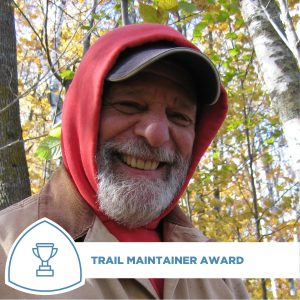 Chuck Church. This 82-year-old gets the crew out every week, first visiting the Trail on his own to prioritize work. When returning from a day of hot, muggy, bug-infested trail maintenance with chainsaws, mowers and clippers, Chuck spends a couple more hours sharpening chains and blades. During the winter, he uses a snowblower to maintain access and parking at trailheads. He speaks with local county commissioners about funding and ensures all kiosks are maintained with literature. Volunteer safety and wellbeing are his priorities, and he takes his role seriously.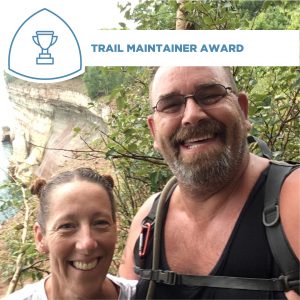 Brian and Deb Charleson. Together, Brian and Deb coordinate trail maintenance across the NCTA Wampum Chapter's NCNST range. They recruit and equip maintainers, communicate with them throughout projects, and even take on maintenance tasks themselves on un-adopted miles – sometimes spending entire weekends ensuring the Trail is in great shape. Brian maintains the Chapter's equipment. Deb is the lead for the PA Hike 50 program for the entire state, tracking completion sheets and ensuring patches and certificates are delivered. The Charlesons also implemented the Chapter's Mile Marker program, installing Carsonite posts along the Trail in Beaver County to aid navigation and maintenance efforts. They have been consistent contributors to Chapter outreach activities, as well.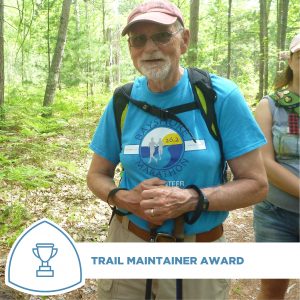 Jerry Marek. Jerry joined the NCTA Grand Traverse Hiking Club Chapter about 24 years ago. For 22 years he has been a sector coordinator overseeing Trail Adopters for 15.5 miles of the NCNST north of the Manistee River, and a Trail Adopter himself for 2.5 of those miles. He is the trail crew coordinator, scheduling work sessions along the Chapter's 100 miles of Trail. He leads the Chapter's mowing crew and schedules the use of the three mowers. As if that's not enough organizing, Jerry is also the contact for Scouts seeking projects on the Trail. Jerry is currently on the Chapter board, and keeps track of volunteer hours at the local nature center to "pay" for the use of the facility for Chapter meetings. He is a regular at the Chapter's Michigan Department of Transportation Highway Clean-Up project and the Chapter's annual fundraiser at the Bayshore Marathon in Traverse City, Mich.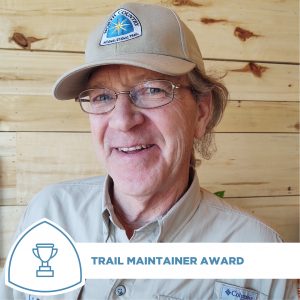 Lawrence Eisinger. Lawrence was first a member of the Minnesota Waters and Prairie Chapter and now, the Itasca Moraine Chapter. For many years, Lawrence has been maintaining and relocating Trail, chainsawing, and building bridges and puncheon. Since 2018 he has been mowing and maintaining almost 10 miles of Trail His ingenuity is deeply appreciated: In 2015 while helping the Star of the North Chapter maintain trail, one mower broke down. With no tools to fix it, Lawrence solved the problem by mowing a couple miles pulling the mower backwards. In addition, Lawrence purchased his own DR string trimmer/mower for trail maintenance and provides his own fuel. He's always willing to mow when another adopter is unable to. Last year he said he loved being out on the Trail so much that he would pay for the privilege.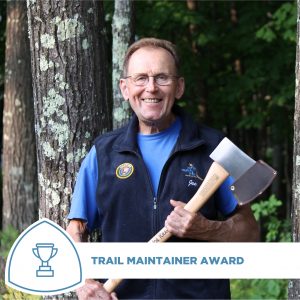 Joe Kravetz. Joe has been a trail maintaining dynamo for the Heritage Chapter for 15+ years but he really impressed us in May 2020 when the pandemic caused travel restrictions. Joe is one of the Chapter's few volunteers that lives close to the Trail. He spent 14 days on the Trail, accompanied by Bethany Thomas for 12 of those days. They managed to maintain the entire Chapter's NCNST section. Joe attends nearly every Chapter work weekend, except once when he had surgery. Sometimes he will finish off projects that the Chapter starts: A couple years ago, they ran out of time to complete a reroute during a scheduled work weekend. Joe hiked over a mile in and completed the section on his own over several different days. The Chapter was then able to start a different project the next work weekend.
Who from your local Chapter, state or region do you want to celebrate? Nominate them for an NCTA Award! Nominations for 2022 NCTA Awards closed as of May 1, but awards are annual. There is also the option for Chapter Honor Awards.