Isabella Lenhart: Trail User and Volunteer
An 8-Year-Old's Passion Grows for the North Country Trail
A backpacking trip always gives way to a hearty story. No matter if the weather was rainy or mild, if the trail was flat or rugged, if the hiker physically struggled or thrived – each backpacking journey is a noteworthy accomplishment. Isabella Lenhart's adventure is no different. In May 2018, the eight-year-old joined her father James and the West Michigan Hiking and Backpacking group on an overnight trip in the Manistee National Forest. Isabella completed all 17.5 miles with a 13-lb. pack and, according to her dad, didn't complain once. "Even on Sunday in the rain she still had a smile on her face."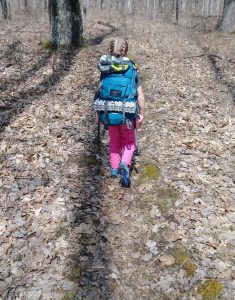 Isabella enjoys laying in her hammock, jumping on the trampoline, and dancing, so she's no stranger to the outdoors or physical activity. Stepping onto the North Country Trail at Bowman Lake (west of Baldwin), she felt confident and excited.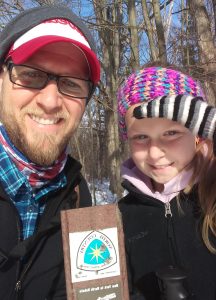 Throughout the hike she said "the scenery was really cool," and referenced a blue racer snake she spotted while on the Trail. For dinner, she enjoyed the experience of a dehydrated Mountain House meal (lasagna). It wasn't long before she earned the trail name Rockstar. "Everyone on the trip was really nice!" Isabella exclaimed.
She and James concluded their hike at Timber Creek Campground then celebrated with hot dogs and ice cream at Jones' Homemade Ice Cream Parlor in Baldwin. Logging nearly 20 miles made her feel happy, and her confidence didn't fade. A couple weeks later, Isabella and James joined the West Michigan Hiking and Backpacking group again and hiked 11.6 miles of rough terrain on South Manitou Island, part of the Sleeping Bear Dunes National Lakeshore.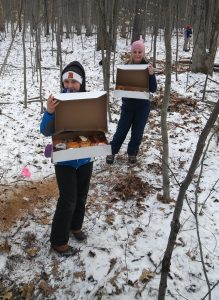 Aside from joining group hikes throughout Michigan, James and all three of his daughters – Breanna (14), Emily (13), and Isabella (8) – volunteer with the NCTA Western Michigan Chapter. In April 2018, they helped build Trail in the Rogue River State Game Area and provided donuts for the entire crew. "My kids can look back years, maybe even decades from now and be proud of volunteering on a trail for others to hike," James said.