2021 Outstanding Private Landowner + Vanguard Awards: Volunteer Spotlight
2021 Outstanding Private Landowner Award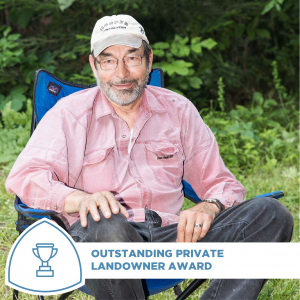 David and Geraldine Wregge. The Wregges enthusiastically allow the Wisconsin Roving Trail Crew to camp on their land whenever the crew project is within Iron or eastern Ashland County. They own an isolated 40 acres, surrounded for miles by Iron County Forest. When the crew first arrived, the access road and open area in front of the campsite was freshly mowed. Later that week, Dave stopped in to see if our needs were met. After this first trip, the crew named it the Quiet Pines Campsite. It has become the crews' favorite because of its roominess, ease of access, heavy bed of pine needles for tents, and its quietness. Every couple of trips, Dave stops by to say hello. He has informed us that we are always welcome there. The use of the Wregge property is the main factor that provides the crew with a comfortable and convenient spot to work on the Trail in this entire part of Iron County. From this campsite, the crew has access to over 30 miles of NCNST, all within a 10-mile drive.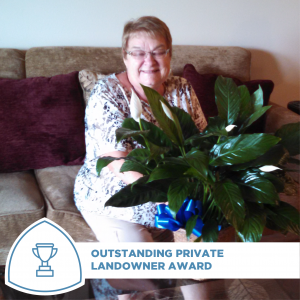 Marlys Groff. Access to a 100-mile segment of NCNST in southeastern North Dakota, maintained by the Dakota Prairie Chapter, was once only possible by crossing a remarkably busy, rural county road, and a mile-long roadwalk. But in 2014, Marlys Groff and her late husband Orrin generously provided an easement on their land, making it possible for a seven-mile, off-road connection to the Sheyenne National Grasslands. The Groffs' property is a beautiful gateway to the Grasslands. Their generosity includes a 20-year, renewable easement guaranteeing the continuity of the Trail through a very historic and scenic part of North Dakota. This is among the first easements from private landowners for the Dakota Prairie Chapter. While ranching, farming and raising a family, the Groffs lived on and genuinely cared for their land. Now after more than six years of Trail usage, Marlys remains steadfast in her commitment to the Trail and is proud to be a part of the Trail Community.
2021 Vanguard Award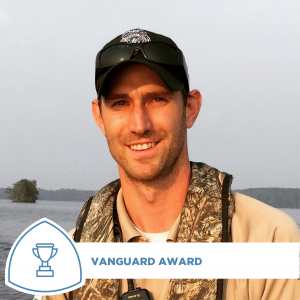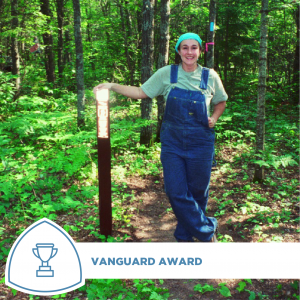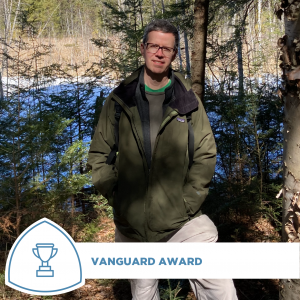 Wisconsin Department of Natural Resources (DNR) Bureau of Parks and Recreation Management. The NCNST was designated a State Trail in Wisconsin in 2000 by its Natural Resources Board. Because of this, the Wisconsin DNR has a vested interest in seeing the Trail completed within the state and has taken significant action to benefit the Trail. The Wisconsin DNR has purchased lands and created easements for the NCNST from approximately 25 different landowners. It has secured funding for bridges, provided grant guidance, and coordinated compliance work and property acquisition. Not only are they working on this joint trail, but they are doing it in a way that makes it obvious they truly value the NCNST as a resource for Wisconsinites. Special thanks to Brigit Brown, Drew Hanson, and Dan Yankowiak!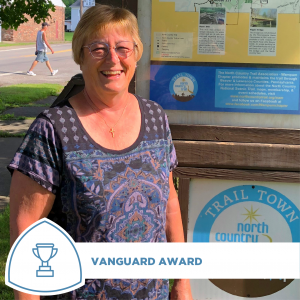 M. Benois Walton. Benois is a Darlington Borough [Pa.] Council member and has served her community for many years. When the Wampum Chapter expressed interest in making Darlington an NCTA Trail Town, Benois saw its potential. She attended Chapter meetings, and helped in many ways to further the Trail and its relationship with the town. She projects a warm and cheerful attitude, and always visits and lends a hand at the annual Darlington Days event. She worked to put on a Trail Town extravaganza that brought locals to the Wampum Chapter. She also worked with Brian and Tracy Hager to form the Darlington Road and Trail 5K and together, raised over $5,000 for the Wampum Chapter. She is currently working on grants to put an overnight, enclosed shelter and camping area in the heart of town.
Who from your local Chapter, state or region do you want to celebrate? Nominate them for an NCTA Award! Nominations for 2022 NCTA Awards closed as of May 1, but awards are annual. There is also the option for Chapter Honor Awards.