Bill Stone: NCNST Long Distance Hiker
Bill Stone
Moorhead, Minn.
Central patch + North Dakota; 1,000 Miles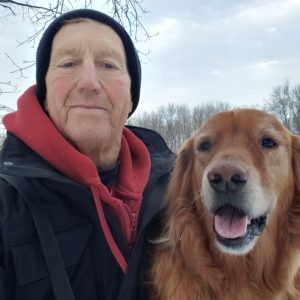 In 2015 I participated in my last triathlon, deciding that due to being unable to run because of past back and knee injuries, I was done with marathons and triathlons. Now I get to hike the Trail with Beau, my Golden Retriever. Then I saw an article in the local newspaper about the possibility of connecting an urban trail in Fergus Falls, Minn. to the North Country National Scenic Trail. I did not attend this hike but attended a meeting of the NCTA Minnesota Waters and Prairie Chapter shortly thereafter. I found found a new community of like-minded people that enjoy being outdoors.
Then along came the Hike 100 and Dakota Challenges. Each year I incorporate the Hike 100 Challenge into my regular fitness routine. John McCallum, a friend and member of the Minnesota Waters and Prairie Chapter, and I began the Dakota Challenge in the spring of 2020. We completed it on October 22, 2021. I truly enjoyed myself while hiking across North Dakota. I saw sights that I had only read or heard about. 
We had barely completed the Dakota Challenge when John and I were already talking about what was next on the list for us hiking-wise. We've decided to continue hiking the NCNST in Minnesota, specifically on the Superior Hiking Trail, and Wisconsin. I truly enjoy being outdoors away from everyday life, even if for just a little while, and really look forward to the next adventure.
Learn more about long distance hiker recognition at explorenct.info/NoCoLo/index.htm.