Tom Walker: Volunteer Spotlight
"Tom's dedication and diligent work inspires the rest of us to volunteer," stated Kay Kujawa, member of the Hiawatha Shore-to-Shore Chapter Roving Crew. Tom Walker is the Chapter President.
Tom has been in a Hiawatha Shore-to-Shore Chapter leadership role and an active NCTA member for several years. He takes responsibility for organizing and leading: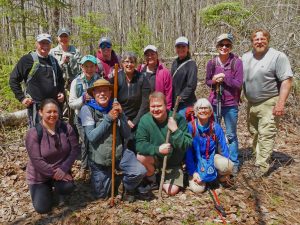 Monthly Chapter meetings and providing well-planned agendas
Monthly hikes
the Labor Day Big Mac Bridge Hike and the "Bridge Warm UP" hike the Sunday before the Bridge Walk
the annual Hiawatha Shore-to-Shore Hikers Rendezvous and dinner celebration
On North Country Trail building and maintenance, Tom uses vacation time from work to assist in Chapter projects. He also supports and assists the Chapter Adopt-a-Section and Roving Crew volunteers, and sponsors a fall hike and potluck dinner at his personal cabin.
To help promote the Trail, he assists in manning the Chapter display at events, and manages the Chapter Facebook page and email account, and meets with USFS and state parks leaders to provide NCT information and to plan volunteer work sessions on the Trail.
Tom manages all of this while working full-time.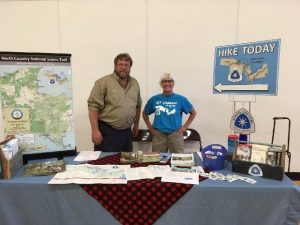 His Chapter members have physical proof that he enjoys planning and executing group hikes and projects: "Pay attention to the expression on his face when he is out on the Trail," stated Kay and Stan Kujawa. "He always has a grin or almost-grin! He is almost always one breath away from a good chuckle."
Tom, from the entire North Country Trail community, especially your Chapter: Thank you!
Are you interested in getting involved with a NCTA Chapter? Most Chapters host workdays, guided hikes, monthly Chapter meetings and other events throughout the year – especially between spring and fall. The Volunteer Interest Form is an easy way to reach out to the NCTA to simply express interest and receive more information on volunteer opportunities.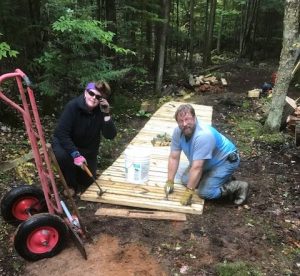 If you're already a volunteer, thank you! Don't forget to report your efforts using the Report Volunteer Hours form: Reporting your hours allows us to recognize your work and report to the National Park Service the value of your hard work. When you report hours, you also earn eligibility for National Park Service awards, such as water bottles, personalized clothing, and America the Beautiful parks passes.
If you know a particularly spectacular volunteer who deserves extra recognition, nominate them for an NCTA Award. Nominations for 2020 awards will be accepted through May 1, and the awards ceremony is held each year during the annual NCTA Celebration – this year in early August.