2022 Leadership Awards
Leadership Award recipients are volunteers who have demonstrated exceptional leadership over a three-year period or more leading to significant local achievements or highly successful events.
Eric Campbell has provided excellent leadership for the Kekekabic Trail Chapter (Minn.) for over three years, following its reorganization from the former Kekekabic Trail Club. He has brought new enthusiasm to the Chapter's efforts, and has a strong desire to both maintain existing partnerships and build new ones. Most importantly, Eric has facilitated new volunteers making significant contributions, while simultaneously keeping long-time volunteers engaged in critical ways. Eric has tackled this challenge in a way that has grown the Chapter's cohesiveness. He leads with a calm, steady demeanor, and folks want to rally behind that. Eric facilitates regular Chapter board meetings, organizes volunteer work weekends, and coordinates outreach efforts to grow the Chapter. Eric is always willing to sit down for coffee with new volunteers to discuss the unique nature of volunteering on this wild section of NCNST. On his watch, the Chapter's membership has grown from less than 15 to over 40, and the treasury has grown enough to enable new projects to be started.
Kevin Schram was a major contributor to the Chequamegon Chapter (Wisc.) before becoming its President in 2017, but since, his leadership has led to huge Chapter gains. He formed and chaired a Designated Campsite Committee in 2017, leading searches and presenting locations to Chequamegon-Nicolet National Forest staff for approval. His tenacity paid off when the Chapter's first two designated campsites were built in 2021, and two more in 2022. Kevin instigates numerous well attended, interpretive hikes, including a series that mimicked a thru-hike of the Chapter's section of NCNST. The Chapter has partnered with the U.S. Forest Service (USFS) and Northland College to provide students and AmeriCorps workers with trail work experiences on the NCNST. The Chapter has achieved an all-time-high level for membership, higher meeting and trail work attendance, and recruited more trail adopters. Kevin coordinated all the Chapter's trail maintenance, tool, and material needs to obtain these gains. He started an annual Volunteer Appreciation Picnic, and he often offers encouragement and appreciation in his communications. Under Kevin's leadership, the Chapter received a coveted USFS Enduring Service Award in May 2019. The right leadership expands a Chapter's abilities under adverse conditions, and Kevin has done just that.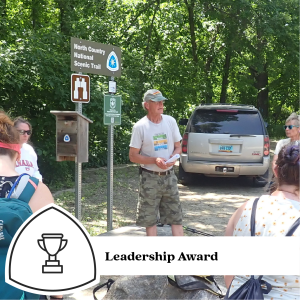 Gerry Berg has been a member of the NCTA for at least 20 years. He was among the first members in North Dakota, joining the Sheyenne River Valley Chapter when it was chartered in 2005. In that capacity, he helped with trail maintenance between Lisbon and Valley City. When the Dakota Prairie Chapter formed in 2013, Chapter Trail segments realigned and Gerry transferred to this Chapter. He developed productive contacts with local landowners and facilitated meetings that led to several miles of trail easements. He has since helped build Trail in those areas, and continues to maintain and repair equipment and recruit new volunteers. Gerry provided significant leadership that resulted in Lisbon becoming an official NCTA Trail Town, then he helped design and build a high-quality kiosk. He helped plan the 2022 Three Chapters Festival: An effort to build collaboration across the NCNST in North Dakota. Gerry and his wife Deb live rurally along the Sheyenne River, adjacent to a roadwalk portion of the Trail. Over the years, Gerry has developed walking trails on his property that he hopes can become an off-road segment of the NCNST someday.
Nominations for 2023 awards are closed as of May 1. See all awards categories, past winners, and nomination information at northcountrytrail.org/volunteer-awards.